Lisbon/London/Remote
Part-time (2.5 days / week) or Full-time
Freelance contract
Start: December 2020
OUR BENEFITS
Fast-tacked professional development within a fast-growing company. 
Ability to make a real positive difference in the world: not 'startup' impact, but real social impact that genuinely transforms the lives of some of the world's most vulnerable people.
Your rate: up to £110 per day, pro rated – based on your level of experience and location.
Remote work. 
A BIT ABOUT YOU:
You have 1+ years experience in English language education (teaching, lesson planning, and/or curriculum development)
C2 English
You have experience delivering work independently and coordinating with small teams
You have a background in linguistics
You have great copywriting skills with a fresh and compelling written voice
You have excellent attention to detail and an eye for visual design
You have experience developing language learning content and know where to source resources and develop your knowledge.
You have a sense for learning design
You have the courage to apply – we are open to applicants of all experience levels so don't hesitate to apply if you feel inspired by the position and have the ability to learn quickly
YOUR MISSION
This role is ideal for a recent language or linguistics graduate with a deep interest in online learning and technology. You will leverage your experience of teaching and learning English to develop engaging new syllabi and course content. You will learn to use the best of emerging technology and learner experience design in your work.
THIS ROLE WILL GIVE YOU AN OPPORTUNITY TO:
Craft CEFR aligned course syllabi for adult learners
Design and create engaging interactive vocab and grammar activities for AI-assisted learning management software (written, visual, audio, interactive activities, etc.)
Create standards-based assessments
Test and critique lessons in English and other language courses
Translate and proofread content to the highest standard
Work aside talented researchers, designers and engineers
Impact refugees and language learners around the world at incredible scale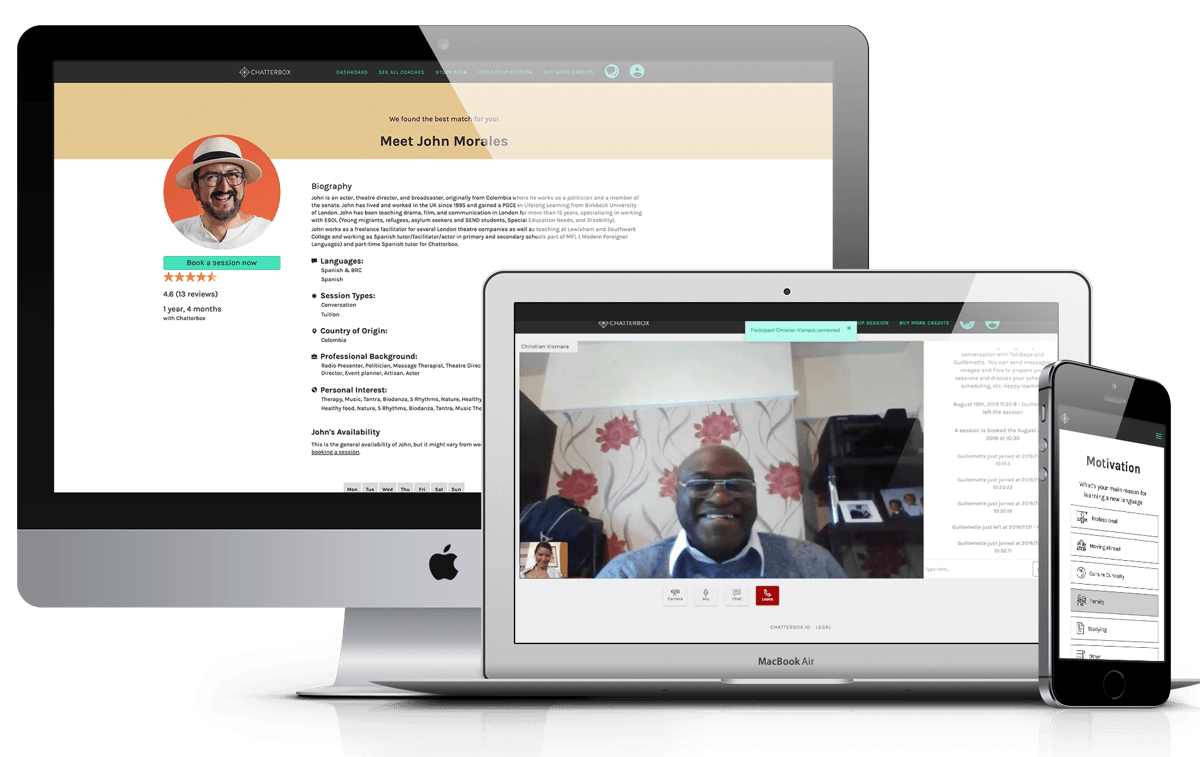 A BIT MORE ABOUT CHATTERBOX:
Our 7-strong team works remotely in Europe. We're supported by some of the best product and business accelerators in the world; like AI Startup Studio All Turtles, innovation foundation Social Tech Trust, and Founders Factory. They will become part of your team too.
[youtube https://www.youtube.com/watch?v=X6-mGx5sNEk]
SOME IMPORTANT STUFF WE WOULD LIKE YOU TO KNOW
We believe in fostering a diverse and inclusive workplace. Therefore, we want to make sure that our recruitment process is accessible to everyone. So if you need any reasonable adjustments – at any point in the process – we'll do our best to help. Just let us know what you need on your application form or reply with your request to the email we send you after you have applied. You might need a reasonable adjustment if you've got a disability. Or maybe you live overseas, and you'd prefer to meet us over Skype.